T-Shirts On The Go!
Christine loved to travel, and she loved to have fun… and T-Shirts on the Go is a fun program that keeps her spirit and love of traveling alive. We now have photos from Paris to Pinehurst, California to China… and everywhere in between. Of course, each t-shirt sold is helping to raise money to help a child in need in America, and each time our t-shirts pop up in a new location you're helping to spread the word about Christine's Hope for Kids. Use the form below to send us your own! We can't wait to see where our T-Shirts on the Go program takes us next!
Book Fairs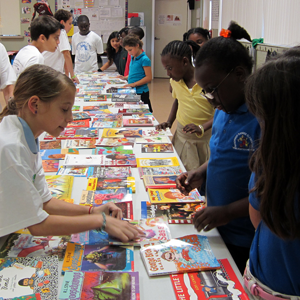 It is heartbreaking to see how many children in our community do not have access to books or safe libraries. Our book fair program is set up in several schools and businesses. People bring in their gently used, unwanted children's books and we take them to kids who need them and host book fairs. It's simple, but the smiles we see when these kids get their free books are priceless.
Pajama Days
We often work with kids in shelters who arrive without any of their possessions. That is why we host Pajama Days at area schools. Students a donation and wear their pajamas ALL DAY LONG!!! Christine's Hope for Kids will match the donations dollar for dollar (up to $3,000) and the money is used to purchase pajamas, books, stuffed animals, toothpaste and toothbrushes to be assembled by the students into pajama bags and distributed to kids who need them. It's kids helping kids…one pajama bag at a time!
Pennies From Heaven
What good is a penny these days? Well, through our Pennies from Heaven Program, those pennies can add up and help a lot of children in need. Here's how it works: In elementary schools around the country we are placing large water cooler jars for the kids to fill with pennies. One penny, two pennies, ten pennies…it doesn't matter. Each penny is a valued donation, and each penny can help. At the end of the year we will count up all the pennies in the jar, and then Christine's Hope for Kids Foundation will match that amount. Then, we will give the kids the option to vote on where they want that money to go. It's kids helping kids, and learning the value of giving…one penny at a time. Want to start a Pennies from Heaven campaign in your school? Send us an e-mail and we'll help make it happen.
Christine's Hero 2015
Christine's Heroes is all about ordinary people doing extraordinary things…just like Christine.
It started with one person sending us a letter. In that letter they wanted to recognize a person whom, they felt, emulated the characteristics we all so admired in Christine; kindness, generosity, helping others, getting involved with community projects, helping at their church, just going a little above and beyond.
So we nominated that person to be Christine's Hero for the month, and it just took off from there.
Now we have nominations flowing in for Christine's Hero, and we love it!
If you know someone who you think deserves to be a Christine's Hero, please send us the nomination with a letter of support, and we'll take it from there. Along with raising money to help underprivileged children, Christine's Hope for Kids Foundation promotes the message that each person has the power to make this world better through simple acts of kindness and basic respect.
Ordinary people who do extraordinary things – that's what Christine was all about, and that's what Christine's Heroes is all about.